For anyone and everyone...
This is how we at FTL define our scope of work.

With our society becoming excessively power dependent in everyday life, both individual households and commercial establishments need continuous power supply. Diminishing resources leading to increasing power cuts with every passing day, demands for alternative power sources. FTL offers green energy solutions across multiple setup and sectors like:

Hospitals
Banks, ATMs, Credit Co-op. Societies
Companies
Offices, Commercial & Shopping Complex
Educational Institutes
Hotels, Holiday Resorts
Call Centers
Village Electrification
Mobile Towers
Fuel pump stations
Residential colonies
and many more applications ...
Support Services
FTL not only offers world class solutions in green energy, but also brings a well-spread, well networked after sales support system. We provide customer support to our clients across different states and cities of India.
In all, we have presence and service centres in more than ... cities across India. We truly believe in delivering an energized, empowered and enriched energy experience for every individual.
Why Renewable Energy Solutions?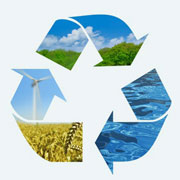 Call it the need of the hour or a long term option, renewable energy is here to stay. In fact, with the exhaustible energy resources like coal, oil etc. diminishing with every passing day, renewable energy sources have gained tremendous importance; simply because- they are freely available and everlasting.

While these are the most basic yet important factors, renewable energy brings with it a plethora of unmatched benefits, social, technological, commercial and economic.
Social benefits

Green energy is clean, noise free

100% non-polluting- an important environmental contribution
Technological benefits

Easy to install modular construction

Stable grid output – no fluctuations

Advanced controls for remote operation and monitoring
Commercial benefits

No recurring fuel cost, 300 days free power.

Low maintenance cost.

Investment in Green power is eligible for government 30% capital
subsidy and or soft loan at 5% Interest

80% depreciation for commercial institutes as per I-Tax

5% rebate will get on Property Tax from Govt. Agencies

Short payback period of 4 to 5years while long system life of 15 to 25
years
Economic benefits

Power generation plus power saving

Increases total power available to various establishments of the
economy